Top tips for your financial wellbeing
We recently caught up with Karishma Kaimal, Financial Adviser at Mansion House Financial Planning. Karishma put together a great blog advising what to do with your money in the current environment and top tips for your financial wellbeing:

Money and finances are a taboo subject that no one likes to talk about, yet we are bombarded by news and information from all directions on this topic – which can sometimes become overwhelming.
I have summarised below to try help you keep on top of your financial wellbeing and think about what you can be doing with your money in the current high inflationary environment:
Budgeting 101
The first step is knowing your income & expenses, putting together a budget and sticking to it. Budgeting is telling your money where to go instead of wondering where.
Everyone has a different way of managing this – you can either use a spreadsheet, app or a diary if that works for you.
There is basic budget rule which tends to work for most:
50% of your income should go towards your needs. This can include essential expenses such as rent, food and bills
30% of your income should go towards wants, this can be a nice dinner, holiday or treating yourself to something you enjoy
20% of your income should go towards savings. the best way to get yourself into the habit of this is to setup a standing order to a savings account for a day after you get paid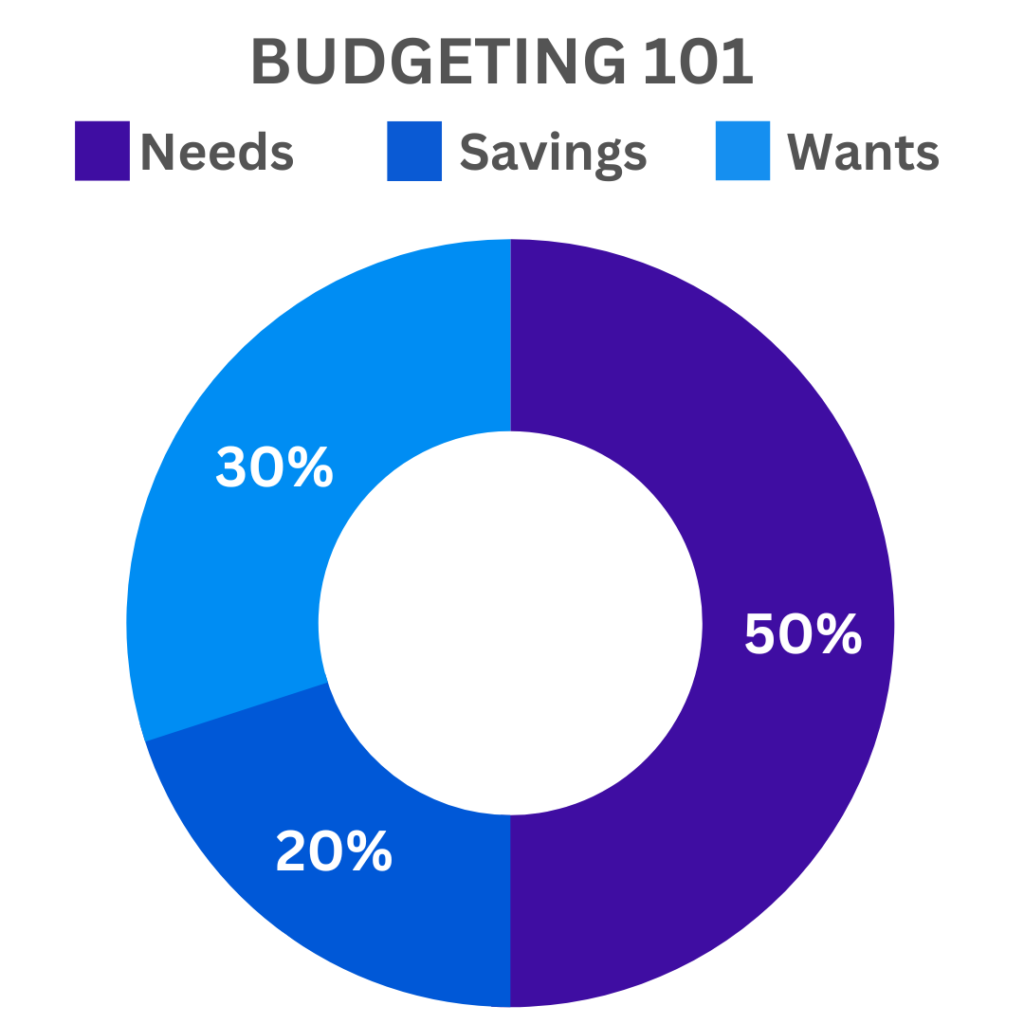 In addition to this, ensure you revisit and do a financial health-check frequently. This can include regularly updating your budgeting tool, seeking financial education or speaking to a professional.
Reducing your debt
In a higher interest rate and higher-inflation environment, one thing to consider is reducing any debt you have, if possible, especially if you have expensive credit-card debt. But you should also look at increasing your emergency savings.
Make your money work for you:
Following from above, in this environment you can benefit from receiving higher interest rates on savings account. So make sure you shop around and choose a good savings account offering a decent interest rate, where you can keep your emergency cash buffer as well as savings, which you can access if you need to. You can use various websites to help you see what is available on the market.
If you have money that you are considering investing, then market volatility still has the potential to provide beneficial returns, even in a recession. Falling stock prices might be considered a 'sale', but trying to time the bottom of the market is rarely a good idea. Having your money in the market usually makes most sense.
While there's no way to predict what markets will do, some examples from past recessions show just what can be achieved if you're committed and invest for the long term, although that does not necessarily mean this will be repeated.
If you are unsure, seek professional advice from a financial adviser, who will be able to explain to you the options you might have available.
Why financial wellbeing is important and how it might be impacting your mental health.
The relationship between financial difficulties and poor mental health is clear and has been exacerbated by the pandemic. It is important to keep on top of your finances on a regular basis and ensure you are not suffering in silence if you are struggling.
Your support team might include friends and family members, as well as official forms of support. For example, if debt is an issue, free advice services such as StepChange Debt Charity and Citizens Advice can be helpful, while The Money and Pensions Service is a valuable source of free, impartial guidance and information.
If day-to-day money management is an issue, you could also consider working with a financial coach, while a traditional financial adviser can provide planning and advice services and help you to focus on dealing with whatever you're going through in life.
Starting with basic habits of savings, ensuring you have sufficient cash buffer and not letting your debts build – are a good start to working towards a healthy financial position and wellbeing.
If you have any questions on the above or would like help navigating your finances – then please do not hesitate to get in touch with Karishma.
You can contact Karishma via below channels and find more details on www.karishmakaimal.com.
Email: Karishma.kaimal@sjpp.co.uk
Contact number: 07368 952 502
The value of an investment with St. James's Place will be directly linked to the performance of the funds you select and the value can therefore go down as well as up. You may get back less than you invested. Past performance is not indicative of future performance. An investment in equities does not provide the security of capital associated with a deposit account with a bank or building society.
Mansion House Financial Planning is an Appointed Representative of and represents only St. James's Place Wealth Management plc (which is authorised and regulated by the Financial Conduct Authority) for the purpose of advising solely on the group's wealth management products and services, more details of which are set out on the group's website www.sjp.co.uk/products.
SJP Approved 15/12/2022